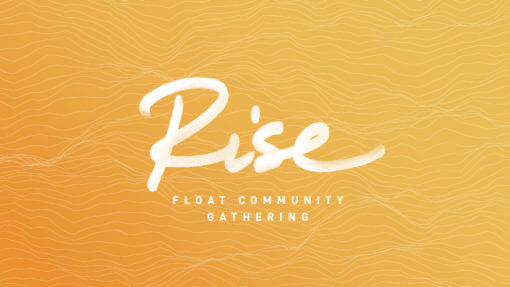 04 May

Reflections on the Rise Float Gathering 2018

Having the privilege to make it to another float conference, I was thrilled to be part of such an amazing gathering of float center owners, manufactures, enthusiasts, researchers and healers. This was the second year they had Rise Float Gathering in St. Louis, Missouri. Float STL were so gracious to spend the time and energy to host this incredible event and they are truly the float experts of the Midwest. It was an honor to have represented Synergy Float Center and how we are contributing to the industry. Unlike most industries, Float Center owners come from all types of backgrounds, from gardeners, to psychologists, to yogis, to engineers to teachers. It was truly refreshing to see how many people, from all walks of life, have been called to this profession and how we all see the powerful affects these services have in our society.

The conference was hosted by two incredible and passionate floaters from Float STL, Kevin and Jake. Kevin McCulloch is the owner and operator of Float STL, who has huge passion and wisdom in the art of floating. They both brought an abundance amount of presence and love during the entire gathering. We started off the panelist with one of the most poetic float enthusiast, researcher and philosopher, Stephen Johnson. He eloquently spoke about how floating can take us places in our mind we never imagined possible. How for thousands of years, shamans and mystics would enter caves to explore alternative states of consciousness. We have modernized this method of insight by entering in a float tank, into the dark abyss of our minds eye. Float center operators are now the modern-day shamans.

Two of the most joyful float center owner's in the industry and the co-founders of Float On, Float Tank Solutions, Float Helm, and the annual Float Conference, Graham and Ashkahn from Portland Oregon were up next. It was truly comforting to see them both walk on stage wearing pajamas, foreshadowing their talk. Graham and Ashkahn focused on the term they coined "Law of Mutual Chillitude", which basically means if you're being chill and respectful, people will be chill and respectful back. There are times when you can take the Chill Path or the Unchill Path. Most of the time, Unchill behavior is a defense mechanism. What we need instead is an emotional release, not necessarily for that to be absorbed by others. If you need to, write an email but wait a day to send it. Usually, you'll see in review that that isn't how you want to communicate what you need to say. This was extremely important to get across, as operating a float center has many challenges, but remaining cool and respectful is what the Law of Chillitude is all about.

Someone who I see and look up to as my float role model and teacher, Kevin Johnson, took the stage and brought the crowd to the edge of their seats. Kevin is the co-founder of Zero Gravity Institute, a premier float center in Austin Texas. He shares his perspective over what he calls "The Complacency of Science", which relies too heavily on the physical, measurable benefits of floating. In his view, it's a disservice of our community to not focus on and address the potentials for altered states of being during floating. These are what he says transform casual floaters into regular practitioners who float with intention. Kevin begins talking about the deep inner experiences he discovered while floating and refers to it as "The Universe of Subtle Energy". This subtle energy is the stuff of dreams, imagination, and intuition. It affects our relationships, our environments, and our behaviors. Floating puts you in a state of tapping into these states of subtle awareness and gives you insight on all aspects of your life. Most people only see floating as merely something that can put you into a relaxed state. But that is just the surface level benefits of floating, the deeper benefits will be shown when you attain a more regular floating practice.

The grandparents of the Float Industry, Glenn and Lee Perry, flew to St. Louis to speak at this year's Rise Gathering, and I was so thrilled to see them again. Glen and Lee both worked closely with Dr. John C. Lilly, the founder of flotation therapy, and had created the first commercial float tank called Samadhi and float center in Beverly Hills California. In 1984, they started the Float Tank Association (FTA), which is a non-profit "dedicated to serving the interests of float center operators, flotation tank manufacturers, educators, consultants and the floating public by creating standards and best practices that promote health, safety, sanitation and accurate knowledge and information about floating". As always, Glenn & Lee bring a combination of charm, experience, and wonderful stories about the beginning days of flotation therapy. The main thesis of their talk covered fear and how floating has helped them overcome fears throughout their life. Lee shared how she recently discovered a potential childhood source of her fear of public speaking and that she'll dive deeper into that fear the next time she's in a float tank. We all have fears about something, and that is okay, it's what makes us human. By facing our fears in the float tank, we can make sense of it and overcome it.

The current head researcher on flotation therapy, Dr. Justin Feinstein from Laureate Institute for Brain Research in Tulsa, Oklahoma, gave his talk on the importance of float research. He has been concerned with the state of research in the float industry for a long time. Despite the relatively large body of research available on how Float R.E.S.T (Reduced Environmental Stimulation Therapy) is beneficial for stress and anxiety, there's been essentially no research done on conditions like depression and PTSD. This is where Justin comes in and while it's still early and can only comfortably show short term effects right now, the results have been profound. He's been able to demonstrate, in the short term, a huge effect in reduction of anxiety and having virtually no downside for the patients. The positive benefits are also lasting for more than a day later, a much longer benefit than standard anti-anxiety medications. This means that patients who have been suffering for years or decades are experiencing a relief from their symptoms, possibly for the first time. Dr. Feinstein announced future research, including an inpatient study for women with anorexia nervosa and research on opioid addiction withdrawal. He also announced he'll be publishing fMRI data to show the changes of floating on the brain.

This Rise Gathering has been very inspiring for me as a float center operator and float enthusiast. The stage of the industry is gaining huge amounts of momentum and with time, who knows where it will go. One thing is for sure, floating is here to stay and will continue to improve the lives of many. I'm so fortunate to have met so many incredible people this year, learned a lot and ready to make the world a better place, one float at a time!